Just 30 minutes outside of Ohio's Amish Country, in the College of Wooster, the Ohio Light Opera has showcased Broadway style musicals, operettas, and operas for nearly four decades. Their 2017 season, beginning June 17, features some of the most recognizable and cherished shows in the musical theater world, and some you may not have heard of before.
Known as "America's Premier Lyric Theater Festival," the Ohio Light Opera's 2017 season will include
The Music Man, Anything Goes, H.M.S. Pinafore, Primrose, The Student Prince, Countess Maritza
, and
The Lady of the Slipper
. Over 40 talented artists, actresses, actors, and musicians make up the cast of this year's productions.
Meredith Wilson's
The Music Man
(1957) is a timeless classic, and winner of the 1958 Tony Award for Best Musical, even beating
West Side Story
for the honor. This show about a music peddler who wins over the hearts of a small Midwest village is a family-friendly romantic comedy with plenty of memorable characters and musical numbers, such as "Wells Fargo Wagon," "Seventy Six Trombones," and "Till There Was You."
New this season to the Ohio Light Opera,
Anything Goes
(1934) is Cole Porter's masterpiece, boasting 136 show titles and acting as a standard of the time's productions. Set on a large luxury cruise ship, this tale follows a nightclub singer, a reverend, a young couple, and a host of other crazy characters in a period comedy you'll have to see to believe, featuring hits such as "Anything Goes," "I Get a Kick Out of You," and "All Through the Night." The Ohio Light Opera is presenting the show in its original 1934 version.
A true slice of classic musical theatre history, Gilbert and Sullivan's
H.M.S. Pinafore
, or
The Lass That Loved a Sailor
, is an 1878 classic about British Naval life and love amongst melodrama and comedic romance. The characters in this show are simply not to be missed!
Also making its premiere at the Ohio Light Opera this season, George Gershwin's
Primrose
(1924) has not seen a fully-staged production in nearly a century. This opportunity to see such an otherwise forgotten piece of musical theater history may not happen for another hundred years! This show never made it to Broadway, as it was written for a London audience, but was one of the first to incorporate jazz into its numbers. Although seemingly just another romantic tale,
Primrose
is full of so many twists, turns, complications, and roundabouts, it's sure to be unlike anything you've ever seen.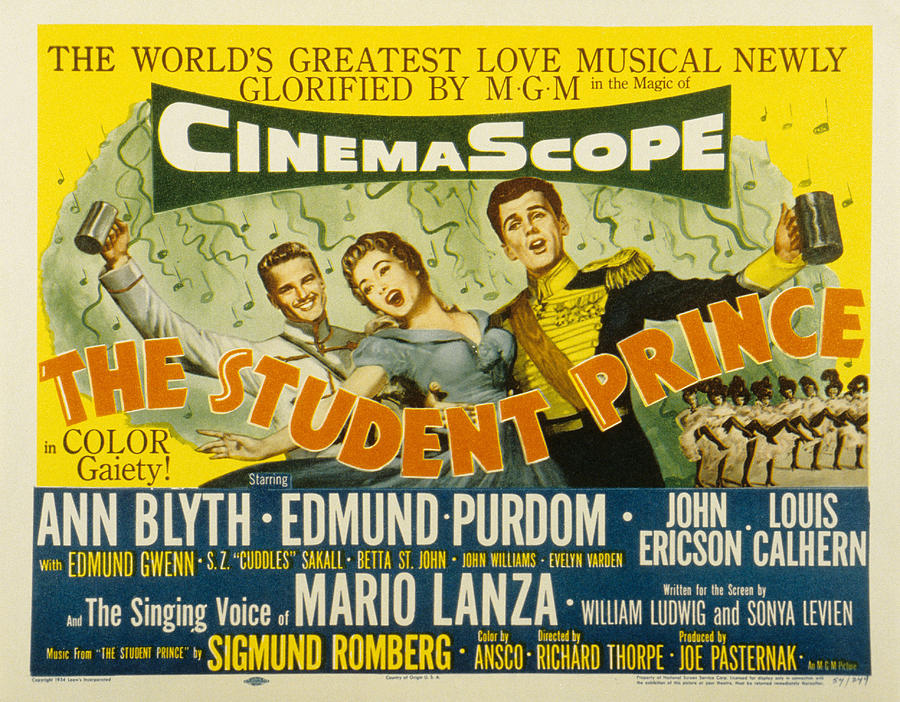 The Student Prince
(1924) is a fusion of the musical genuis of Hungarian composer Sigmud Romberg and the lyrical genuis of Doroth Donnelly, set to the play
Old Heidelberg
by Wilhelm Meyer-Foerster. This romantic operetta was the longest-running Braodway production in the 1920s. The story follows a prince and his servants as he travels to Heidelberg University, and has to choose between his duty to his family and his country, and the newfound love of his life.
The Ohio Light Opera has been proud to showcase the works of Emmerich Kalman, and returns this season to
Countess Maritza
(1924). A romantic story of a wealthy Countess, her manager, the manager's sister, and a ficticious pig farmer who turns out to be real, this show will leave you laughing and on the edge of your seat.
Another premiere at the Ohio Light Opera that has not seen the stage in over a hundred years,
The Lady of the Slipper
, or
A Modern Cinderella
(1912) is exactly how it sounds. Victor Herbert's rendition of the Cinderella tale is far from traditional, however. Sporting names like Dollbabia and Freakette for the stepsisters, Mouser the cat, and suitors Punks and Spooks, this production has earned the term "zany," and embraced it. You won't want to miss this historic opportunity!
In addition to regular shows, A Festival Symposium on the Lyric Theater Tradition will also be held over a four day period from August 1-4, including a number of prominent speakers in the industry and live concerts.
More information, scheduling, ticket prices, and more are available at the
Ohio Light Opera's website.
The 2017 season will run from June 17-August 12